2013 | OriginalPaper | Chapter
The Neglected Child: Are We on the Same Wavelength?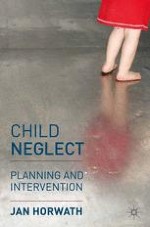 Author: Jan Horwath
Publisher: Macmillan Education UK
Log in
Neglect is essentially parental failure to meet the needs of the child (Greenbaum et al., 2008). The simplicity of this definition, however, belies the complexity associated with identifying neglect and determining when services should be provided to the child and their family. Mennen et al. (2010a), in an American study, found that the one-word term 'neglect' described a diverse and heterogeneous range of behaviours experienced by the young people. This is a consequence of neglect being socially constructed and dependent on perceptions of what constitutes good enough parenting at a particular time within a particular society. This social construction goes some way to explaining why operational definitions of child neglect vary across nation states, as shown in Table 1.1. Whilst all the definitions included in the table refer to parental failure to meet the needs of the child, there are variations in the focus on different needs. All the operational definitions mention the child's basic physical needs and providing adequate supervision. Yet, whilst both the Scottish and Northern Irish definitions include 'lack of stimulation', 'failure to educate in line with that required by law' is also considered neglect in some American states. However, this specific focus is absent from the UK definitions. These variations occur because a number of factors — such as social and cultural influences, research, legislative frameworks and state thresholds for intervention into family life — influence the way in which neglect is constructed in each state (Daniel et al., 2011; Gilbert et al., 2011). In Australia, for example, operational definitions vary from state to state and consideration is given to 'cultural tradition'. The way in which neglect is constructed and defined will inform both the children that are labelled 'neglected' at a particular time and the interventions required by the community, professionals and the state to meet their needs (Dickens, 2007; Mardani, 2010).