2012 | OriginalPaper | Chapter
The New Communist State and Marriage Reform in the 1950s: 'Public Patriarchy' in Practice?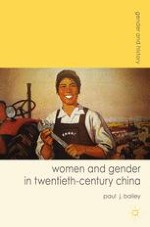 Author: Paul J. Bailey
Publisher: Macmillan Education UK
Log in
In the classic account of the Chinese communist revolution,
China Shakes the World
(first published in 1949), the journalist and war correspondent Jack Belden (1910–89) recounted the story of a twenty-one-year-old peasant woman called Kinhua (Gold Flower) whom he had met while staying in a village in Hebei province (north China) in 1947 (Belden, 1970, pp. 275–307).
1
Forced by her parents at the age of fifteen to marry a man many years her senior, Gold Flower suffered cruel and abusive treatment from her husband and father-in-law. Her salvation came in the shape of the village Women's Association that had been formed with the encouragement of a male communist cadre recently arrived in the village (shortly before, a unit of the communist 8th Route Army had also passed through the village). The father-in-law was confronted by several members of the Women's Association and hauled off to a mass meeting of women to face public criticism. Gold Flower herself was emboldened to denounce her father-in-law openly:
The crowd groaned. In the heavy swelling voices, the sound of shuffling feet could be heard. Gold Flower felt herself being pushed aside. A fat girl was at her elbow and others were crowding close. 'Let us spit in his face', said the girl. She drew back her lips over her gums and spat between the old man's eyes. Others darted in, spat in his face, and darted away again. The roar of voices grew louder. The old man remained standing with his face red and beard matted with saliva. His knees were trembling and he looked such a poor object that the women laughed and their grumbling and groaning grew quieter. (Belden, 1970, p. 293)