2017 | OriginalPaper | Chapter
1. The Nexus between Socio-Economic and Political Change in Italy: Why Does Italy Matter?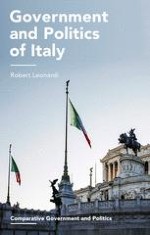 Author: Robert Leonardi
Publisher: Macmillan Education UK
Log in
Abstract
The study of Italian politics has a long pedigree among American and European scholars given the country's history and economic and political turbulence over the past two centuries. After the Second World War scholars were attracted to the politics of the country due to the existence of Western Europe's largest Communist Party (PCI), which had significant roots in different social classes (farm workers, industrial blue collar workers, white collar workers, members of cooperatives, storekeepers, entrepreneurs and intellectuals) and pursued a basically democratic rather than revolutionary strategy for coming to power through the electoral process. Based on its large membership base, it governed a number of local, provincial and regional governments with reasonable success in the production of common goods for the public and was recognized as a party capable of incorporating the principles of good government in terms of policy making and administration. But the politics of the country also fascinated scholars due to the existence of the Vatican and a dominant Christian Democratic Party that exercised a monopoly of power at the national level and was able to impose Catholic cultural values and practices on the general public through national legislation on divorce, abortion, differentiation of rights between men and women, and censorship of the national media.