2016 | OriginalPaper | Chapter
The Origins, Evolution and Critiques of Resilience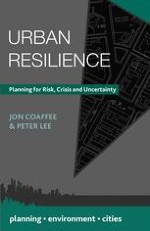 Authors: Jon Coaffee, Peter Lee
Publisher: Macmillan Education UK
Log in
Resilience is everywhere today, rapidly becoming a principal framing device for political discourse: 'It falls easily from the mouths of politicians, a variety of state departments are funding research into it,
urban planners are now obliged to take it into consideration
, and academics are falling over themselves to conduct research on it' (Neocleous, 2013, p.3, emphasis added). The term has entered into the lexicon of policy communities, the media and academia to not only assess and understand the resistance to shock events of people, households and communities, but also to describe the properties and ability of interconnected and complex ecological, technical (e.g. engineering), social and economic systems to adapt and change in the midst of failure. As the UK's Leverhulme Trust noted in 2010 in its call for research:
This is the century in which the human race will have to respond to major challenges resulting from environmental change, from the need to attain sustainable and equitable social structures, from contrasting demographies, from conflicting cultural models and from enhanced global economic uncertainty. Linking these challenges are notions of risk assessment and of the required changes which must lead to adaptive human behaviour.