2016 | OriginalPaper | Chapter
The Party System: Turbulent Multipartyism or Duopolistic Competition?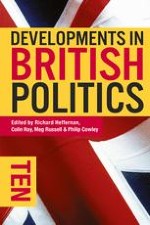 Author: Paul Webb
Publisher: Macmillan Education UK
Log in
How should we best characterise the British party system in the wake of the 2015 general election? Has it undergone a significant and enduring realignment, or merely experienced a moment of passing turbulence, after which things have returned to the seemingly eternal verities of stable two-party competition? The notion of party system realignment was pioneered by US political scientists (Key 1955; Burnham 1970) and essentially refers to the process by which blocs of electoral support which have habitually been associated with particular parties shift towards their rivals; such a process also generally entails a change in the ideological or programmatic nature of party competition. The closely related concept of a 'critical election' refers to an election in which the process of changing links between social groups and parties is catalysed by the impact of particular issues, candidates or events. These are the moments when a long-term process of realignment becomes manifest. While realignment may be something that only occurs once every few generations, and is therefore likely to be driven by gradual forces of underlying change, it may take one or sometimes two consecutive elections for these forces to achieve a critical mass that will effect the realignment. In the United States, such critical elections are widely held to have occurred in 1800, 1828, 1860, 1896, 1932 and 1964.