2016 | OriginalPaper | Chapter
The Politics of Mass Democracies: Designed-In Disappointment?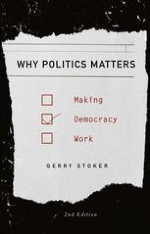 Author: Gerry Stoker
Publisher: Macmillan Education UK
Log in
This chapter explores a different explanation of the global rise of political disenchantment to those examined so far. It takes up the theme suggested by John Dunn, that people are disappointed by politics because they do not understand it. This chapter argues that the increased discontent with formal politics can, at least in part, be explained by a number of misunderstandings of the political process that have taken hold in the discourse of democracies. As a result, many citizens fail fully to appreciate that politics in the end involves the collective imposition of decisions, demands a complex communication process and generally produces messy compromises. What is more, the chapter suggests that this problem has been compounded by the spread of market-based consumerism and the nature of individualism. Making decisions through markets relies on individuals choosing what suits them.