2016 | OriginalPaper | Chapter
The Presidency: Charismatic Master or Facilitating Manager?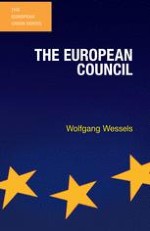 Author: Wolfgang Wessels
Publisher: Macmillan Education UK
Log in
How and why national leaders adopt consensual agreements in matters of high political salience for their states and their own domestic power positions is an intriguing and important issue in the study of the European Council. The following chapters look at the dynamics of the decision-making inside the European Council. They identify the opportunity structures (see Chapter 8) and negotiating instruments used to achieve consensus (see Chapter 9). They also analyse power-related factors and forces influencing the internal working of the institution (see Chapter 10).