1999 | OriginalPaper | Chapter
The Price of Scotland?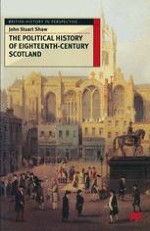 Author: John Stuart Shaw
Publisher: Macmillan Education UK
Log in
The main design of this book is to describe the political development of eighteenth-century Scotland after the union. This is viewed from the perspective of those at the top of the political elite. The fiery debate about the 'price of Scotland' gives the reader a flavour of the political world we are entering, or perhaps leaving behind. 'Causes' of the union may be sought in England and in Scotland. The political desirability of bridling a troublesome, vexatious and unreliable neighbour was reason enough on the English side. A particular English aim was to ensure Scottish acceptance of the Hanoverian succession as laid down in the English Act of Settlement of 1701. Among the Scots, for their part, there was some recognition that England called most of the shots and had done so since the union of the crowns. The extreme English reaction to the Darien scheme presented Scots with the harsh reality that an independent Scottish trading empire was an impossible dream. The prospect for the Scots became bleaker still when the Alien Act was passed in 1705. This Act threatened to give Scots the status of aliens and to ban the importation to England of the main articles of Scottish trade if there was not compliance in the matter of the succession.