2001 | OriginalPaper | Chapter
The Psychological Structure of Utopia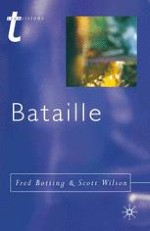 Authors: Fred Botting, Scott Wilson
Publisher: Macmillan Education UK
Log in
'Luther says literally "You are the waste matter which falls into the world from the devil's anus"' (Lacan 1992, 97). The diabolical excrement that, for Luther, defines humans describes, at the same time, the world as a dungheap of sinful flesh. No matter how elaborate the rituals of cleanliness and purification, this most basic fact acknowledges an enduring condition and also announces the necessity of religion: without the profane world of filth and flesh there is no sacred dimension. Indeed, though waste is expelled through complicated channels of custom and taboo, its otherness marked in the learned and habitual responses of disgust and nausea, it never really gets washed away, can never be rendered other enough. Waste remains, no matter how often it is thrown away, strangely integral to the very systems and lives that depend on its expulsion. For Julia Kristeva,
these body fluids, this defilement, this shit are what life withstands hardly and with difficulty, on the part of death. There, I am at the border of my condition as a living being. My body extricates itself, as being alive, from that border. Such wastes drop so that I might live, until, from loss to loss, nothing remains in me and my entire body falls beyond the limit —

cadere

, cadaver. (Kristeva 1982, 3)
Living unto death, from loss to loss, the subject exists in a process of wasteful expenditure that, while ultimately exhausting the self, marks out its path and the fragile borders of identity.