2005 | OriginalPaper | Chapter
The Pursuit of a Negotiated Settlement: Choice or Necessity?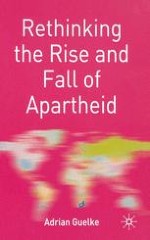 Author: Adrian Guelke
Publisher: Macmillan Education UK
Log in
The crisis of white rule in South Africa in the mid-1980s was multidimensional. It began with the boycott in August 1984 of the elections to their chambers in the tricameral parliament by Coloured and Indian voters. This dealt a near-fatal blow to the country's new constitution even before it had formally come into force. This was followed by a revolt in the townships in the Vaal Triangle in September 1984. The South African Institute of Race Relations (SAIRR) estimated that 175 people were killed in unrest-related incidents in 1984, 149 of them between 3 September, when the revolt in the Vaal Triangle had begun, and the end of the year.1 The use of troops to quell the unrest politicised the trade unions, leading to a major stay-away from work on 5 and 6 November, 'the largest political stay-away on record'.2 There was also a strong international reaction to the violence in the townships. In particular, the November stay-away, which coincided with President Reagan's re-election for another four-year term, prompted a wave of protests against apartheid in the United States. Demonstrations coordinated by Transafrica focused on the South African embassy in Washington attracting extensive media coverage.