2015 | OriginalPaper | Chapter
The relevance of relevance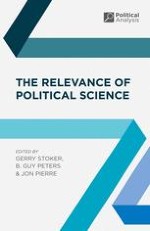 Author: John Gerring
Publisher: Macmillan Education UK
Log in
Social science is a species of practical knowledge. 'Any problem of scientific inquiry that does not grow out of actual (or "practical") social conditions is factitious', Dewey writes:
All the techniques of observation employed in the advanced sciences may be conformed to, including the use of the best statistical methods to calculate probable errors, etc., and yet the material ascertained be scientifically 'dead', i.e. irrelevant to a genuine issue, so that concern with it is hardly more than a form of intellectual busy work. (1938: 499)
If social scientists cannot tell us something relevant about the world then they (we) are serving very little purpose at all (Adcock 2009; Bloch 1941/1953; Bok 1982; Haan et al. 1983; Lerner and Lasswell 1951; Lindblom and Cohen 1979; McCall and Weber 1984; Mills 1959; Myrdal 1970: 258; Popper 1936/1957: 56; Rule 1997; Shapiro 2007; Simon 1982; Smith 2003; Wilensky 1997; Zald 1990; see also the symposium in
Political Science and Politics
43(4) (October 2010), with contributions by Amitai Etzioni, Jacob Hacker, Gary Orfield, Lorenzo Morris and Theodore Lowi).