2012 | OriginalPaper | Chapter
The Responsibility to Prevent: The Last Refuge of the Unimaginative?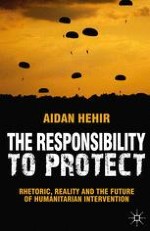 Author: Aidan Hehir
Publisher: Macmillan Education UK
Log in
Today R2P is increasingly championed as primarily concerned with prevention. Indeed, according to Thomas Weiss, prior to the intervention in Libya, supporters of R2P orientated the debate in such a way that there was a 'virtually exclusive emphasis on prevention' (2011, p. 1). While this does not constitute a totally illogical focus on an unrelated issue, this chapter argues that this new direction for, if not reinvention of, the concept is a dereliction of the concept's original
raison d'être
. As noted in the first sentence of the 2001 ICISS report the origins of R2P stem from the debate surrounding the issue of militarily responding to, rather than holistically preventing, intra-state crises:
This report is about the so-called right of 'humanitarian intervention': the question of when, if ever, it is appropriate for states to take coercive — and in particular military — action, against another state for the purpose of protecting people at risk in that other state. (ICISS, 2001a, p. vii)
The increased emphasis on prevention is, I argue, indicative of R2P's failure, as detailed in the previous chapter, to affect change in the laws, procedures and institutions regulating the response of the international community.