1998 | OriginalPaper | Chapter
The Rise of the Party System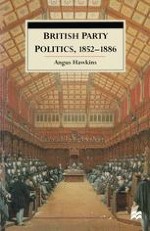 Author: Angus Hawkins
Publisher: Macmillan Education UK
Log in
In Gilbert and Sullivan's operetta
HMS Pinafore
, which opened before enthusiastic London audiences in 1878, Sir Joseph Porter, First Lord of the Admiralty, sings:
I always voted at my party's call,

And never thought of thinking for myself at all.
W. S. Gilbert's satirical lines touched a nerve of contemporary sensibility. The supplanting of parliamentary government by a more rigid party system appeared to be imposing on MPs the increasingly powerful dictates of cabinet and electorate. In his book
Popular Government
, published in 1885, a forum far removed from the Savoy operas, Sir Henry Maine, anxious at the advance of democracy, saw MPs being demoted from unfettered representatives to instructed delegates.
1
Two comparisons readily illustrate the transition highlighted by Gilbert and Maine: first, the contrast between those differing parliamentary processes which produced the Reform Acts of 1867 and 1884; secondly, a comparison of those two great crises of party dislocation, 1846 and 1886.