2007 | OriginalPaper | Chapter
The Rival Poet(s): a Lesson in Tightropes?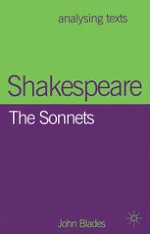 Author: John Blades
Publisher: Macmillan Education UK
Log in
Most critics believe that in their present arrangement, the Sonnets contain two sequences of sonnets that focus on the mysterious characters of a Rival Poet (numbers 78–86, excluding 81 and 84) and a Dark Mistress (127–52). While there is no external (and not much internal) evidence to support the view that these sonnets refer to a single man or woman it has been attractive to discuss them as if they did. Indeed this mystery has spawned a speculative and mostly harmless industry bent on establishing the actual identities of these two individuals. From time to time there emerge stories in the popular media claiming to have discovered conclusive proof of who the rival and the mysterious woman were, and yet, to date, all of these have proved inconclusive. So, reader beware and have your smidgen of salt.