2016 | OriginalPaper | Chapter
The State Embedded: Twentieth-Century Alternatives?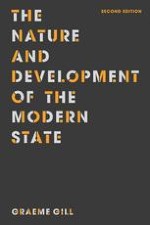 Author: Graeme Gill
Publisher: Macmillan Education UK
Log in
This chapter is devoted to an analysis of the two main types of states in the twentieth century: the Western liberal welfare state and the communist state. Both types of states were able to penetrate much further into society than ever before, reflecting the improved tools for this emanating from industrial and technological development. But they did it in different ways: the welfare state in a cooperative mode, the communist in a directive, administrative mode. This difference was crucial for the survival of the former and collapse of the latter. Industrialization and the changes associated with it, especially mass education and urbanization, underpinned the massive expansion of state capacity during the twentieth century which was reflected in the embedding of the state even more in society than it had been before (for a major study, see Evans 1995). The principal form this took was the extension of state activity into spheres of life that formerly had at best been only marginal to state action.