2011 | OriginalPaper | Chapter
The Text and Early Performances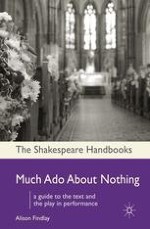 Author: Alison Findlay
Publisher: Macmillan Education UK
Log in
The first mention of '
The comedie of much A dooe about nothinge
' as '
A booh
', was in a note, dated 4 August 1600, on the fly-leaf of a volume of the Stationer's Register, where it was formally entered on 23 August, and then appeared later that year in a quarto text (a book made up of sheets of paper folded twice to provide 4 leaves or 8 pages). The title page announced it as:
Much adoe about Nothing

As it hath been sundrie times

publikely acted by the right honourable, the Lord Chamberlaine his servants.

Written by William Shakespeare

.
Further details on the title page informed the first readers that the play was printed in 1600 by Valentine Simmes for Andrew Wise (who also published quartos of
Richard III
) and William Aspley, who was later involved, though not as a very active partner, in the publishing of the First Folio of Shakespeare's plays, due to his ownership of the rights in
Much Ado
and
Henry IV Part 2 (2 HIV)
(also printed by Simmes). The published quarto would have cost about 6d (Murphy, 2003, 30), the equivalent of an expensive seat at the Curtain, which was probably the first theatre in which
Much Ado
had '
been sundrie times
publikely acted', as the title page advertises.