2005 | OriginalPaper | Chapter
The Theory and Practice of Apartheid: Was There a Blueprint?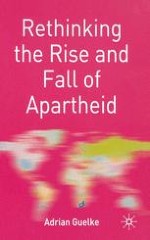 Author: Adrian Guelke
Publisher: Macmillan Education UK
Log in
While there were (and still remain) sharp disagreements among analysts as to the role that the slogan of apartheid played in the HNP's election victory in 1948, the Nationalists themselves had no doubt that they had been given a mandate to put apartheid into practice. Further, they acted on this assumption so that a number of apartheid's main legislative pillars were put into place during Malan's first term of office. This was in contrast to segregation, the legislation of key aspects of which was enacted over a period of decades. For example, more than thirty years passed between the recommendation of the Lagden Commission that the Cape's non-racial franchise should be abandoned and the removal of African voters from the common roll in the Cape.