2013 | OriginalPaper | Chapter
The Transatlantic Relationship and NATO: The End of an Era?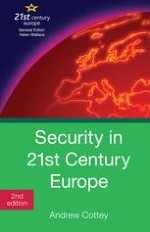 Author: Andrew Cottey
Publisher: Macmillan Education UK
Log in
Ever since the Second World War, the USA has played a central role in European security. After having come to Europe's rescue twice in less than half a century in the two World Wars, in the context of the Cold War the USA established a semi-permanent alliance with Europe, institutionalized in the form of the North Atlantic Treaty Organization (NATO) and a large US military presence deployed in Europe. For the four decades of the Cold War, NATO and the relationship with the USA were the bedrock of European security, at least for Western Europe. The end of the Cold War thus raised fundamental questions about whether NATO and the post-Second World War transatlantic relation would survive. Although the relationship with the USA has often been controversial and some in Europe advocate an EU foreign, security and defence policy based on independence from America, since the end of the Cold War there has been quite a strong consensus, in both Western Europe and the United States, in favour of maintaining transatlantic co-operation and NATO.