2012 | OriginalPaper | Chapter
The Transnational Transfer of Eugenics: Better Citizens for a Better Future?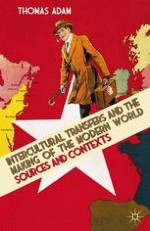 Author: Thomas Adam
Publisher: Macmillan Education UK
Log in
The crude extension of Charles Darwin's theory on evolution and natural selection into human society and the acceptance of Gregor Mendel's laws of inheritance provided a pseudoscientific but very popular basis for the development of eugenics as a program to improve the human race through selective breeding at the beginning of the twentieth century. Eugenicists believed that character traits, human health, and moral and social conditions were inherited the same way physical traits were passed on from one generation to the next. Proponents of eugenics saw humans as a product of their genes and not of their environment. Social reform thus had to start with the improvement of the gene pool and not with the improvement of the social environment. Therefore, eugenics focused on the discouragement of procreation for those deemed undesirable and the encouragement of procreation for those who were deemed desirable. The undesirable portion of the population was to be prevented from procreation by means of forced sterilization, birth control, and restraints on marriage while the desirable portion of the population was to be encouraged by rewards for parenthood.