2016 | OriginalPaper | Chapter
The Triumph of Democracy?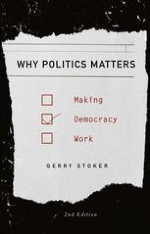 Author: Gerry Stoker
Publisher: Macmillan Education UK
Log in
Amartya Sen picks out democracy as the crowning achievement of the twentieth century. It has to be admitted that it is possible to think of many other developments in the century worthy of praise, from widespread advances in economic welfare to space travel. But I think the establishment of democracy deserves to be placed at the top of that century's achievements. This chapter shows how democratic governance has become a widely accepted and celebrated guide to how we should make decisions on a collective basis in our societies. It explores the nature of this democratic governance, arguing that democracy is a system worth defending and showing that it is not just a 'Western' idea but also a universal value. The chapter continues by examining the spread of democratic practice. It concludes by looking at some of the countervailing forces and challenges faced by democracies. Nevertheless the overall message of this chapter is: hooray for democracy.