2005 | OriginalPaper | Chapter
The Unexpected Transition to Majority Rule: Analysing a Miracle?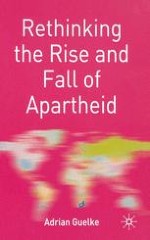 Author: Adrian Guelke
Publisher: Macmillan Education UK
Log in
At the time of Nelson Mandela's inauguration as President on 10 May 1994 after South Africa's first democratic elections it was common to represent the country's transition as a compromise between the forces of African and Afrikaner nationalism. Such a picture was powerfully reinforced by the fact that the last leader of the country under white minority rule, F.W. de Klerk, was inaugurated on the same day as one of his two Deputy Presidents. An extreme example is provided by Arend Lijphart's explanation of the reasons for his optimism that South Africa's first democratic system would work:
The first reason is that the newly founded democracy is clearly a consociational democracy. Second, it is not only a power-sharing system, but close to the optimal power-sharing system that could have been devised. Third, the background conditions for its satisfactory operation have become considerably more favourable than they were in the 1980s. Fourth, the outcome of the April 1994 elections augurs very well for South Africa's democratic future.

1
Lijphart then proceeds to elaborate on these points. His arguments are examined further below. But in the first instance, the sharp contrast between Lijphart's view of the transition and that presented by Giliomee in his 2003 book,
The Afrikaners
, deserves to be underlined.