2009 | OriginalPaper | Chapter
The United Kingdom: Constructing a Third Way?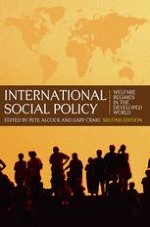 Author: Pete Alcock
Publisher: Macmillan Education UK
Log in
Welfare policy in Britain in the twenty-first century can be traced back to the early years of the nineteenth century, and indeed beyond that to the onset of industrialization and capitalist economic relations in the seventeenth century. However, we cannot explore such a distant history here (see Digby, 1989; Fraser, 2003; Harris, 2004); and it is sufficient to gain an understanding of current, and prospective, welfare policies to see the ways in which these emerged from the key political, economic and ideological developments within the twentieth century. This historical context can be divided loosely into six broad stages of development: Early Reform — during the first two decades of the last century a new role for the state in providing welfare services for a wider range of citizens was introduced in a number of key areas. These included: social security through state insurance for pensions, unemployment and sickness; primary education (up to 12 years of age) in local state schools; the establishment of a Ministry of Health; and the beginning of building of public sector houses to rent.Responding to Recession — between the two world wars Britain, in common with most other Western industrial nations, experienced severe economic recession. Although there was piecemeal growth in welfare services during this period the pressure of social need meant that in many areas limited public provision could not meet expected public demand, leading to some cuts (for instance, in social security benefits in 1930) and much suffering.The Postwar Welfare State — in the late 1940s, following the end of the Second World War, the newly elected Labour government engaged in the most significant and rapid period of welfare reform in the century. During this period, as we shall discuss below, public services providing near universal coverage for most welfare needs were introduced with widespread popular and political support. The period is often regarded as leading to the establishment of the British 'welfare state'.Incremental Growth — throughout the 1950s and 1960s, a political consensus over the desirability of state welfare was allied to a long period of economic boom, resulting in gradual growth in welfare provision and welfare expenditure within the services established by the postwar reforms. Between 1951 and 1976 welfare spending on education, health and social security grew as a proportion of gross domestic product (GDP) from 11 to 22 per cent.Containment and Retrenchment — In the mid-1970s the long postwar boom came to an end and economic and political priorities altered sharply in Britain. In the 1980s, Conservative governments openly hostile to the collective values of state welfare provision were in power, the proportionate rise in welfare spending was halted and significant reforms were introduced to privatize and marketize welfare provision.The New Welfare Mix — at the beginning of the twenty-first century, state provision of welfare remains significant and widespread, and public expenditure on this is again rising in both absolute and relative terms. At the same time, however, other private, voluntary and informal forms of welfare provision are now openly encouraged and promoted as alternative forms of provision within a new 'welfare mix'. This new welfare mix is part of a broader attempt by the Labour governments in power since 1997 to 'modernize' welfare provision, which has sometimes been championed as a 'third way' between state monopoly welfare and private market provision. The changes outlined here are discussed in more detail in, in particular Timmins (2001), Lowe (2005) and Glennerster (2007). Despite the shifts in both policy and ideology, however, there are significant continuities within British welfare policy, especially when compared with policy developments in other countries throughout the developed world. Britain provides an interesting case of the Anglo-Saxon welfare model, sometimes also referred to as the 'Beveridgean Welfare State', which contrasts starkly with the more residual approaches found in the USA, Canada and Australia, and the 'social state' model adopted in Germany and other continental European countries.From this perspective British welfare provision is associated most closely with the major national reforms of the late 1940s and the establishment of universal, redistributive, national welfare services. The clearest exposition of the rationale behind these reforms was provided by the 1942 Beveridge Report. Here, Beveridge outlined a plan for a peculiarly British social insurance scheme for social security, based on all-inclusive flat-rate benefits; but he also talked about the need for comprehensive health and education services and for state support for full employment (for men). His ideas were largely taken up by the postwar Labour government. Despite the reforms which have been made since then, the basic structure of much of the Beveridge vision remains in place.