2017 | OriginalPaper | Chapter
The United Kingdom: The Access-to-Higher-Education Nation?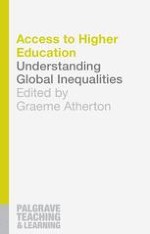 Author: Graeme Atherton
Publisher: Macmillan Education UK
Log in
The issue of who goes to higher education (HE) is, as in most chapters in this book, of relatively recent concern to most HE institutions and policymakers in the United Kingdom. However, the nature of the concern reflects far more long-standing issues. How inequalities in access to HE are addressed in the United Kingdom in recent years have come even more to reflect these historical differences between the four nations that constitute the union. The policies and practices adopted across the four nations increasingly reflect how the nations themselves are (re)asserting their own individual identities. This chapter explores the evolution of widening access work in the four different nations of the United Kingdom. It looks at how social class pervades access work across the four countries but interacts with particular social and political characteristics so that where access to HE is concerned, it only makes partial sense to talk about the United Kingdom here. It argues that each nation is going in its own way where access to HE is concerned.