2011 | OriginalPaper | Chapter
The Way It Was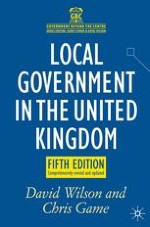 Authors: David Wilson, Chris Game
Publisher: Macmillan Education UK
Log in
Why include a historical chapter in a book on contemporary local government? Why not just focus on the present system, its structure and operation? Two reasons. First, and most fundamentally, because in all sorts of ways that present system is shaped by its history, as Professors Jones and Stewart explain:
History can be seen in the

buildings

of local authorities; in particular, in the Victorian and Edwardian town halls built to express the pride of civic government … The

law

about local government has been built over time …

Legal precedents

deriving from past cases are important in present-day local government… The history of

particular local authorities

is important in moulding their distinctive cultures. (2009, p. 22 — emphases ours)
The present cannot be properly understood without some appreciation of how it developed and differs from the past — especially in Britain, where local government has evolved gradually over the centuries, without any codified constitution defining its rights, responsibilities and relationship to central government. Second, if ever we were inclined to drop the history chapter, it would seem particularly wrong to pick a time when the Children's Secretary in the Brown Government, Ed Balls, was trying to abolish primary school 'history' and subsume it into an 'area of learning' — the totalitarian-sounding 'historical, geographical and social understanding'. It might be construed as supportive.