2016 | OriginalPaper | Chapter
The Welfare State: Whither the 'Social Dimension'?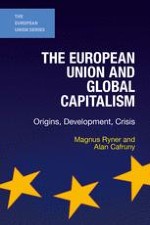 Authors: Magnus Ryner, Alan Cafruny
Publisher: Macmillan Education UK
Log in
This book started by invoking Jacques Delors' famous 1988 speech to the British Trades Union Congress (TUC). Delors argued forcefully that the single-market project should not only be about deregulation and dismantling welfare state arrangements that had formed an integral part of Europe's social market economies. Market-making must also have a 'social dimension' and be re-embedded in social policies and standards at the European level. It is clear from solemn incantations in major EU documents about 'social cohesion' and 'the social model' that there is a keen awareness of the importance of welfare state arrangements for legitimacy in European polities. This concern with the 'social dimension' is warranted. The welfare state – a shorthand for public services, social-insurance schemes, protective legislation, industrial relations regimes, and employment promotion policies that are provided, guaranteed, or framed by the state as citizenship rights – is not merely some 'generosity', an optional extra charity or indulgence. Almost all social scientific research into the nature of advanced capitalism underlines that the welfare state is one of its essential components. This affirms the relevance of Lowi's discourse on modified liberalism (Chapter 1), Poulantzas' recasting theory of the state as a mediator of social and class conflict, Milward's research on the relationship between European integration and the 'rescue' of the (welfare) state, and the research programme on Rhineland capitalism that followed in the wake of Servan-Shreiber's American Challenge (all in Chapter 2).