2005 | OriginalPaper | Chapter
The Worldwide Anti-Apartheid Movement: Peripheral or Crucial?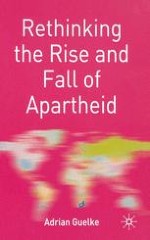 Author: Adrian Guelke
Publisher: Macmillan Education UK
Log in
The absence of international involvement in the negotiations that led to South Africa's political settlement has been touted by some of the participants as one of the ingredients of the success of the process. They present an attractive picture of the problems of South Africa being solved by South Africans themselves. The National Party's chief negotiator, Roelf Meyer, has argued that this is an important lesson of the South African case that is applicable to other conflicts.1 In particular, he has argued that what Northern Ireland needs is a new agreement negotiated among the parties in Northern Ireland themselves without the involvement of the British, Irish or American governments. The evident advantage of such an approach is that greater legitimacy would accrue to an agreement achieved without external intervention. In fact, it is partly because few wish to detract from the legitimacy of the South African settlement that the myth of external exclusion from South Africa's transition is not more vigorously challenged. A strong case can be made that external pressures played an important role not only in creating the conditions for negotiations but also in influencing their outcome. The role of external pressures, more widely from the sports boycotts that began in the 1960s to the economic sanctions of the 1980s, forms the subject of this chapter.