2016 | OriginalPaper | Chapter
Theories of Development: Why Are Some Countries Underdeveloped?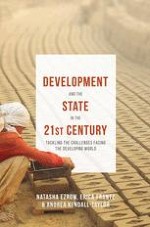 Authors: Natasha Ezrow, Erica Frantz, Andrea Kendall-Taylor
Publisher: Macmillan Education UK
Log in
Most states in the world were poor when they gained independence. This applies to countries ranging from the United States in 1776 to Kenya in 1963. Despite this common beginning, the ability of states to grow their economies has varied dramatically from one case to the next. For example, using data from the World Bank's World Development Indicators (2014), the GDP per capita of Japan and Ghana in 1950 was comparable, at $1,873 and $1,193, respectively. By 2010, however, Japan's GDP per capita skyrocketed to $34,000, while Ghana's stayed about the same at $1,576. In those 60 years, Japan experienced major economic gains while Ghana saw little to no economic improvements for its citizens. The different experiences of these two states raise the question, why is Japan rich and Ghana poor? Is it Ghana's fault that it remains poor? Or is Ghana the victim of an unjust system?