2014 | OriginalPaper | Chapter
Theories of Party Development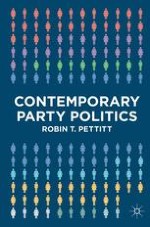 Author: Robin T. Pettitt
Publisher: Macmillan Education UK
Log in
Understanding the origins and early development of parties is a critical aspect of the study of party organisations. The main reason for wanting to understand the origins of political parties is that the way a party emerged has a major impact on its organisation for decades afterwards:
a party's organisational characteristics depend more upon its history than upon any other factor. The characteristics of a party's origins are in fact capable of exerting a weight on its organizational structure even decades later. Every organization bears the mark of its formation, of the crucial political-administrative decisions made by its founders, the decisions which 'moulded' the organization. (Panebianco, 1988, p. 50)
This is not to say that parties do not change as they clearly do. The point is that once a party has become 'institutionalised', to use Panebianco's term, or set in its ways, it often takes a considerable amount of effort to change it. Parties, as with most established organisations, are 'small c conservative' in that they change only gradually and often reluctantly. To understand the current shape of parties it is, therefore, necessary to also understand how they originated and developed.