2011 | OriginalPaper | Chapter
To Whom Does a Military Medical Commander Owe a Moral Duty?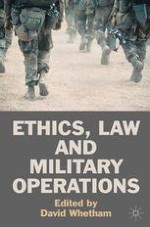 Author: Duncan Blair
Publisher: Macmillan Education UK
Log in
The original Hippocratic Oath sets out, in a clear and didactic manner, the duties of a physician. In the arena of military medicine, however, conflicting elements of duty can set up friction between the medical and military precepts of the medical officer. There are also natural tensions that arise from the differing roles and requirements of a mission commander and a mission's medical officer. This is further compounded by the dual roles of the medical officer both as a doctor and as an officer. An exploration of these issues follows below, prompted by further quotes from the Hippocratic Oath.