2017 | OriginalPaper | Chapter
Towards a Common European Army?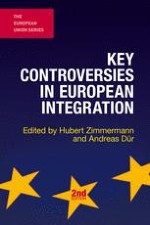 Authors: Hubert Zimmermann, Andreas Dür
Publisher: Macmillan Education UK
Log in
In April 2011, Libya, one of the many countries in the Arab world that witnessed protests against decades of oppression during the so-called 'Arab spring', descended into bloody chaos as ageing dictator Muammar al-Gaddafi clung to power with the help of his well-equipped army. Immediately, intense debates erupted in EU member states on whether they could stand by idly as many people were massacred in their immediate neighbourhood while exerting their democratic rights. In the end, France and Britain were at the forefront of the countries that actively intervened with their militaries, whereas countries such as Germany and Poland refused to participate. Once more, a common security and defence policy of the Europeans seemed to be more of a fata morgana than a real prospect. Libya has now turned into a failed state, plagued by warring factions, infiltrated by ISIS and unable to govern its borders which are crossed by huge numbers of refugees who try to leave Africa towards the shores of the EU.