2014 | OriginalPaper | Chapter
Transcending the Politics of 'Difference' and 'Diversity'?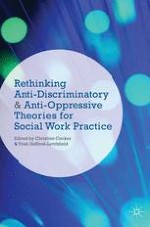 Author: Paul Michael Garrett
Publisher: Macmillan Education UK
Log in
The chapter begins by outlining some of the key developments relating to anti-discriminatory social work practice and related themes in England and the Republic of Ireland. Both countries are currently governed by coalition administrations intent on pursing neo-liberal policies resulting in cuts to services and the undermining of social protection. Nevertheless, not surprisingly, there are certain national defining characteristics. An interest in anti-discriminatory practice appears to have been quite prominent within the discourse of social work in England, whilst there has been a relative lack of interest in the Republic of Ireland (see also Garrett, 2012). After sketching in some of the main preoccupations, mostly as they relate to questions pivoting on 'race' and ethnicity, the chapter will examine how social theorists associated with the political left have endeavoured to disrupt talk centred on notions of 'difference' and 'diversity'.