2012 | OriginalPaper | Chapter
Understanding the Tension between Sovereignty and Intervention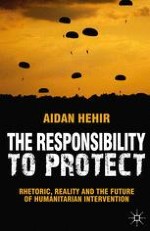 Author: Aidan Hehir
Publisher: Macmillan Education UK
Log in
Sovereignty has always been a 'contested concept'. According to Lassa Oppenheim:
there is perhaps no conception the meaning of which is more controversial than that of sovereignty. It is an indisputable fact that this conception, from the moment when it was introduced into political science, until the present day, has never had a meaning which was universally agreed upon. (2006, p. 129)
This is particularly evident with respect to the debate on humanitarian intervention and R2P, as reconciling humanitarian intervention with state sovereignty, 'represents a profound moral and political challenge' (Danish Institute of International Affairs, 1999, p. 34). Addressing this challenge, this chapter argues that the creation of a right of humanitarian intervention does not necessitate the abandonment of sovereignty — understood broadly as comprising two principles, inviolability and equality — nor, I contend, should it.