2016 | OriginalPaper | Chapter
Urban Resilience as Adaptive or Maladaptive?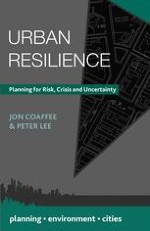 Authors: Jon Coaffee, Peter Lee
Publisher: Macmillan Education UK
Log in
Ideas surrounding adaptability and the capacity to respond to risk and perturbation are at the heart of urban resilience. Resilience practices of the epistemic planning community or wider civil society that seek to enhance the adaptability of critical built infrastructure, and to proactively respond to the occurrence or threat of disruptive challenge, often achieve the very opposite effect with poor or suboptimal planning decisions frequently serving to reduce resiliency and increase urban vulnerability. Therefore, rather than urban and regional planning being reimagined, through the lens of resilience, as in pursuit of the adaptability of the built environment, the actions of planners can in many cases be viewed as maladaptive and obdurate to change.