2001 | OriginalPaper | Chapter
Users: At the Centre or on the Sidelines?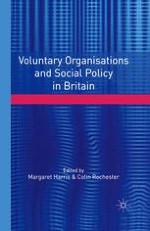 Authors: Michael Locke, Paul Robson, Steven Howlett
Publisher: Macmillan Education UK
Log in
Until the election of Margaret Thatcher's Conservative government in 1979, the idea of 'user involvement' in voluntary organisations was largely rooted in notions of democratic participation. The new government shifted the focus to ideas of consumer preference and demands (Deakin, 1996), fuelled by New Right notions of dismantling the state and enhancing individual freedom.