2017 | OriginalPaper | Chapter
Values: A Victory or Crisis of Liberalism?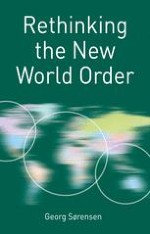 Author: Georg Sørensen
Publisher: Macmillan Education UK
Log in
The liberal vision at the end of the Cold War concerned a world order increasingly held together by liberal values. Such a world would emerge because material and ideational forces were pushing towards transforming more and more countries into liberal democracies. Processes of modernization would lead to material changes that supported the emergence of democracy. Equally important, the basic 'human desire for recognition' would secure that liberal democracy would actually be the end result (Fukuyama 1992). A large number of democracies would make for a peaceful and cooperative world order, based on a common belief in liberal values and principles. So who, if anyone, wins the discussion? We should first take note that this is not a simple soccer game where we can count goals and pronounce a winner. Each of these perspectives illuminate some aspects of a complex reality and puts others in the dark; in that way liberals paint a rather optimistic picture of the present world order while realists are much more pessimistic. We can always find something that supports each of these facets of world order; it is helpful to briefly set forth a liberal and a realist picture of what is going on.