2015 | OriginalPaper | Chapter
Visions of a United Europe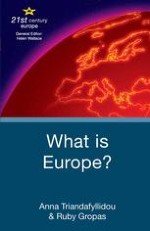 Authors: Anna Triandafyllidou, Ruby Gropas
Publisher: Macmillan Education UK
Log in
Throughout history, Europe has been an elusive concept. Jean Monnet wrote in 1950:
Europe has never existed … We must genuinely create Europe, it must become manifest to itself … and it must have confidence in its own future (Monnet, 1950).
Perceptions of what Europe is have inextricably been entangled with aspirations, often contradictory ones, of what Europe ought to be. Grand power politics, religion, nationalism and ideology have framed perceptions of Europe and have inspired very different visions of what Europe is meant to represent. Europe has often served as a narrative, told and retold by different actors, in different contexts and at different times, for different purposes and to very different audiences.