2001 | OriginalPaper | Chapter
Volunteers: Making a Difference?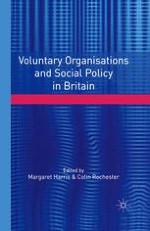 Author: Justin Davis Smith
Publisher: Macmillan Education UK
Log in
Governments have long been interested in volunteering. From the Good Neighbour Campaign in the late 1970s through the Active Citizen and Make a Difference initiatives in the 1980s and 1990s to New Labour's 'Giving Age', successive administrations of both left and right have sent out a clarion call for people to play a more active role in their communities (Sheard, 1986, 1992; Deakin, 1995). Alongside these high-profile generic campaigns governments have also adopted more targeted approaches, seeking to involve volunteers from particular groups in society in pursuit of specific policy objectives. The precise focus of these initiatives has been determined by the specific policy concerns of the day. Sheard (1995) has argued that governments have viewed volunteering as 'a panacea for whatever society's current ills happen to be' (p. 116). Thus in the 1960s the focus of attention was on youth disaffection; in the 1980s it shifted to mass unemployment; while in the late 1990s volunteering is seen as having a key role to play in combating social exclusion.