2005 | OriginalPaper | Chapter
War and the Falklands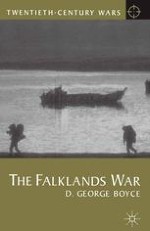 Author: D. George Boyce
Publisher: Macmillan Education UK
Log in
The shadow of Wilfred Owen and the other Great War poets hangs over narratives of war in British history. Kevin Foster, in his
Fighting Fictions
, confessed that, though no poet, his purpose was to take up the torch lit by Owen and his fellow poets, and to write a narrative 'no less admonitory'. [82, pp. 155–6] But in a review of a collection of books about the First World War in the
Times Literary Supplement
of 16–22 September 1988 Nicholas Hiley wrote that:
It is often forgotten that war is an abstract concept which can only be understood through other abstractions such as nationality, honour and duty. Because the concept of war has to be taught to each succeeding generation it has been reduced to a few simple ideas which can fit easily within the dominant ideology. This naturally produces a wonderful unity of purpose during wartime…
But because war was an abstraction, people can carry different and conflicting images of it in their mind at the same time: 'An image of war as destructive and barbaric can easily exist alongside another of war as noble, just and heroic'.