2016 | OriginalPaper | Chapter
What Are Mentoring and Coaching?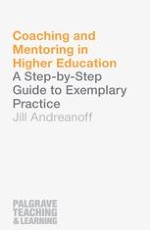 Author: Jill Andreanoff
Publisher: Macmillan Education UK
Log in
There is much conflict about the terms 'mentoring' and 'coaching' and the difference between them. Whilst the actual definitions of mentoring or coaching are not absolutely crucial to the implementation of a programme, serious consideration should be given to this prior to scheme implementation as it will become important when it comes to the training and preparation of your intended participants. Jacobi (1991) first recognised the need for a precise definition of peer support terms in order to determine the necessary elements for success. The debate on the differences between these two interventions still continues and is likely to do so for some time, with authors such as Chao (2006) critiquing others for not sufficiently defining the terms.