2014 | OriginalPaper | Chapter
What Can Children and Young People decide for Themselves?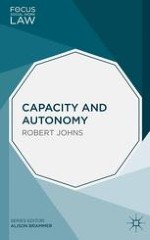 Author: Robert Johns
Publisher: Macmillan Education UK
Log in
This chapter explains how the law enables children and young people to make decisions for themselves as they grow older. Instead of making a blanket assumption that no child or young person under 18 can make any decision about anything, the law has evolved to allow for the development of young people's capacity to make certain kinds of decisions as they grow older. It would be strange if no one under 18 could make any kind of decision yet suddenly on the attainment of their 18th birthday they acquired the capacity to make any decision they wished; and this is not how the law operates. However, this does raise substantive legal and ethical questions about the empowerment of children and young people. At what age, or by what criteria, can under-18s make decisions? What kind of decisions can they make? How should the law operate if young people make decisions that are objectively not in their interests? What should the role of professionals be and, crucially, to whom are they accountable — to parents who are legally responsible for their children, or to the child or young person themselves?