2014 | OriginalPaper | Chapter
What can we Afford?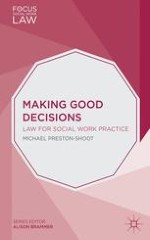 Author: Michael Preston-Shoot
Publisher: Macmillan Education UK
Log in
What topic could be more pertinent for social workers to consider in a context of financial austerity? In fact, however, the tension between needs and resources has been a long-running feature of social work practice, perhaps just brought into starker relief by substantial fiscal retrenchment across the public sector. Indeed, the pressure of meeting financial targets, leading to compromises in levels of medical and nursing care and shortcomings in the standards of care provided to patients, was one significant component in a major recent scandal within the NHS (Francis, 2010; 2013).