2016 | OriginalPaper | Chapter
What is a case study?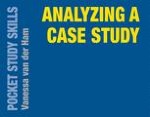 Author: Vanessa van der Ham
Publisher: Macmillan Education UK
Log in
You may have seen cases used as examples in textbooks. The cases are descriptions of real-life situations or events and they're included to help students understand theoretical principles by seeing them applied in real-life situations. You'll find that tutors are using cases more and more in their teaching, not only as examples, but as the basis for classroom activities and assignments. The tutor provides a case that mimics a real situation you might encounter in the workplace and you apply what you've learned in the course to study (analyze) the situation.