2016 | OriginalPaper | Chapter
What is a Gesture?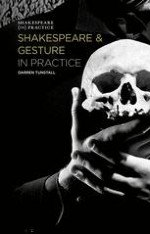 Author: Darren Tunstall
Publisher: Macmillan Education UK
Log in
Before we can explore non-verbal acts in a Shakespeare performance, the word 'gesture' needs to be defined. Its derivation is the Latin gerere meaning 'to bear, to carry, to carry on, to perform'. From the late Middle Ages up to the early nineteenth century it carried the meaning of 'deportment' – the carriage, or manner of bearing, of the body. From the mid-sixteenth to the early eighteenth century, it also meant 'a posture, or attitude of the body'. In the early twentieth century it took on a new meaning as an 'action performed as a courtesy, formality or symbol to indicate an intention or evoke a response' (all references from The Concise Oxford English Dictionary). Thus, from the beginning of the Renaissance up to around 1800 the word described how an individual appeared to the world in a relatively fixed way; there was often a conflation of gesture with what we understand as posture. This fixity tallies with the concept, upheld in this book, that during this period life was less about the individual feeling entitled to self-enhancement – an idea which holds the potential for flexibility in one's choice of role as well as for a kind of equality between people – than it was about identifying the individual's place in the social order.