2014 | OriginalPaper | Chapter
What is a Human Right?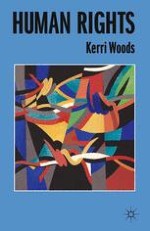 Author: Kerri Woods
Publisher: Macmillan Education UK
Log in
If we are to resist the confusion that Milan Kundera describes here, we will need to be clear about what, precisely, is a human right. What is the difference between a desire, a need, a duty, a right, a human right? What is it about human rights that makes them important as moral claims and political practice? What sorts of agents can be rights-bearers? What are the implications of conflicts between rights? In this chapter, I aim to clarify human rights as a concept, which should, I hope, make the questions that we address later in the book — questions about why we have human rights and what we have human rights to — that bit easier to get to grips with.