2016 | OriginalPaper | Chapter
What Is a Theory?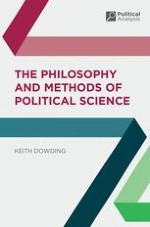 Author: Keith Dowding
Publisher: Macmillan Education UK
Log in
Students are often taught that in order to have an explanation you have to have a theory. A standard critique of PhD students' initial proposals is: 'What is the theory you are testing?' In some ways, this is a rather old-fashioned question. At least one theory in the social sciences, 'complexity theory', suggests that we should not try to test theories, but rather let the data talk. One aspect of the movement towards 'big data' is developing description from which inductive inferences can be made, rather than theory testing. There is still much controversy about whether and how much big data affects our methods (something I look at in Chapters 5 and 7), and how far it is inconsistent with the other major movement in political science, the experimental turn (Grimmer 2015; Monroe et al. 2015).