2010 | OriginalPaper | Chapter
What is addictive behaviour?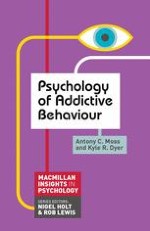 Authors: Antony C. Moss, Kyle R. Dyer
Publisher: Macmillan Education UK
Log in
Addictive behaviours are challenging — they can affect anyone, they develop slowly, often without our awareness, they touch all aspects of our lives, and they can be very difficult to treat and prevent. Throughout this book we will present the theories, evidence and ideas, drawn from the fields of psychology, pharmacology, medicine and allied health, that are most useful for understanding addictive behaviours. The purpose of the present chapter is to introduce some of these key ideas, issues and arguments, and provide a foundation for understanding the rest of the book. We use the term addictive behaviours to capture not only drug and alcohol dependence (both physical and psychological), but also to include other behaviours, such as gambling, internet and sex, that people can become dependent upon. While at times there may be a focus on drug dependency in this text, it is important to remember that some key concepts apply to all addictive behaviours, and not just those that involve the administration of a drug.