2016 | OriginalPaper | Chapter
What Is an Explanation?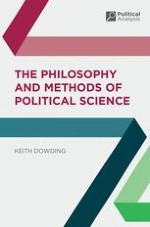 Author: Keith Dowding
Publisher: Macmillan Education UK
Log in
The place to begin thinking about methods of enquiry is with consideration of the nature of explanation. Research is designed to explain things; that means it is designed to answer questions. We cannot think about what constitutes explanations without thinking about the sorts of questions we ask. Some questions are about causal processes, some about which conjectures or theories are correct and which false, some about what best characterizes an object or event. Sometimes one can answer a question by giving a description. Description is an important part of political science, just as important as theory. Too many undergraduate textbooks in political science are short on description and long on theory. Writing and reading theory is much more fun than carefully describing and understanding institutions and political processes. But without close description, without precise understanding of institutions and processes, we cannot come to clear judgements about grand theories of politics.