2017 | OriginalPaper | Chapter
What is critical thinking?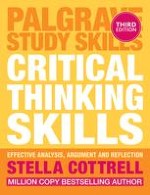 Author: Stella Cottrell
Publisher: Macmillan Education UK
Log in
This chapter provides a general orientation to critical thinking. It examines what is meant by 'critical thinking', the skills associated with it, and the barriers that can hinder effective development of critical approaches. Many people can find it difficult to order their thoughts in a logical, consistent and reasoned way. This book starts from the premise that skills in reasoning can be developed through a better understanding of what critical thinking entails, and by practice. Critical thinking is a cognitive activity, associated with using the mind. Learning to think in critically analytical and evaluative ways means using mental processes such as attention, categorisation, selection and judgement. However, many people who have the potential to develop more effective critical thinking can be prevented from doing so for a variety of reasons apart from a lack of ability. In particular, personal and emotional, or 'affective', reasons can create barriers.