2000 | OriginalPaper | Chapter
What is Deconstruction?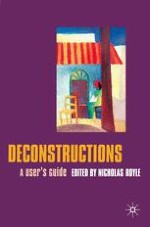 Author: Nicholas Royle
Publisher: Macmillan Education UK
Log in
I love your dictionary. It is the most wonderful single-volume dictionary of the English language. I am even willing to give serious consideration to the thought, expressed by you on the front cover, that it is '
The
authority on english today
'.
Chambers Dictionary
has long had a special place in my heart. I picked up a copy of the 1993 edition more or less the day it was published. I should have written to you at the time. For it was that edition which contained, for the first time, an entry for the word 'deconstruction'. Now with the latest edition (1998) I see that the entry is unchanged and I just have to write to you about it. I can no longer contain myself. You define it as follows:
deconstruction

n. a method of critical analysis applied

esp

to literary texts, which, questioning the ability of language to represent reality adequately, asserts that no text can have a fixed and stable meaning, and that readers must eradicate all philosophical or other assumptions when approaching a text.