2015 | OriginalPaper | Chapter
What is Europe? An Introduction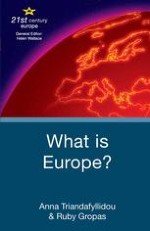 Authors: Anna Triandafyllidou, Ruby Gropas
Publisher: Macmillan Education UK
Log in
It was nearly 30 years ago when Edgar Morin, a famous French philosopher and sociologist historian was writing:
If Europe is law, it is also force; if it is democracy it is also oppression; if it is spirituality, it is also materiality; if it is moderation, it is also hubris and excess: if it is reason, it is also myth, even in the very idea of reason. (Morin, 1987, p. 23)
If one asked citizens the question, 'What is Europe?', they would probably disagree in their answers but many among them would assume that there is an absolute truth to be found — a definitive answer to be given. They would thus argue on the criteria or the historical evidence on which a definition of Europe could or should rest. Indeed, one might answer the question through reference to public opinion surveys, another may draw on historical works or quote the words of famous European thinkers, while many may privilege a politicized and ideological definition of Europe. More often than not, in such contemporary discussions, one would conflate the term 'Europe' with that of the 'European Union' (EU).